a place where ideas on culture, theology, history and politics meet
The End: A Complete Overview of Bible Prophecy and the End of Days


by Mark Hitchcock
Book Description
The end times have seen a great amount of interest within the last two decades, but there hasn't been a comprehensive overview of biblical prophecy and eschatology for more than five decades. Mark Hitchcock's book is that comprehensive resource for the twenty-first century The End will do for eschatology what Randy Alcorn's Heaven did for people's understanding of heaven. It will provide a solid biblical foundation for Christians to explore the essential truths around this topic—the end of the world.
My Review
The End aims to provide an overview of Biblical Prophecy and a vision of the Christian view of Eschatology. For anyone even the least bit familiar with views on eschatology, that is the end times, they are quite aware that there is a whole host of disagreement concerning any sort of particulars.
The Bible certainly has a lot to say concerning the last days. How exactly that information is to be understood is an oft-debated topic, however. Recognizing that this is the case Mark Hitchcock in the opening of his book acknowledges that their are differences and he touches upon some of them but also clarifies that he will articulate what he believes is the correct view and while interacting with the other views does not claim to fully articulate all of their teachings in detail. This was a helpful point to clarify up front.
Another point of clarification that Hitchcock makes early on is in acknowledging that there are vast areas of disagreement there are core fundamentals on which Christians do agree concerning the end times. He lists these as his non-negotiables. They are – the return of Jesus Christ to the earth, the bodily resurrection of the dead, and the final judgment of all people. Beyond these areas he recognizes there will be disagreement and acknowledges that may be acceptable.
Hitchcock presents a pre-tribulational, pre-millennial eschatology. The work is an impressive overview and interacts with nearly every major prophetic text, in both the old and new testament. It also provides a great reference work for dealing with particular topics. It is a quite lengthy text (500+ pages) but the chapters are short enough that it is not difficult reading.
The book is certainly well-researched and is not exactly "light-reading" but neither is it a dense academic tome. The book is written at more of a popular level that is accessible for most lay-people. It also serves as a great reference work and would be a very useful tool for preparing lessons and sermons. So it succeeds in this level but is not at the highest academic level.
The End is a very helpful reference work on the end times. It would be among the first books that I would reference for someone looking for an introduction to a pre-trib, pre-mil position on eschatology.
DISCLAIMER: I received a free evaluation copy of this book from Tyndale House Publishers. I did not receive any monetary payment nor was I required to write a positive review. I hope my comments about the book will help you evaluate whether or not the book is worth purchasing and reading.
See on Scoop.it – thoughtful|convergence

Vimeo is the home for high-quality videos and the people who love them.
J. Paul Barker's insight:
A very insightful and thought-provoking lecture on the question of whether forgiveness has a place in international politics and transitional justice.
See on vimeo.com
See on Scoop.it – thoughtful|convergence

A new religious liberty law clinic at Stanford Law School, which administrators say is the first of its kind at a U.S. law school, was established with $1.6 million in seed funding from the Washington-based Becket Fund for Religious Liberty.
J. Paul Barker's insight:
Always excited to see indviduals who are helping to raise the level of the discussion to help achieve better interaction and application of freedoms for individuals of all faiths to live in light of those faiths together in public. This looks like a great initiative.
See on www.law.com
See on Scoop.it – thoughtful|convergence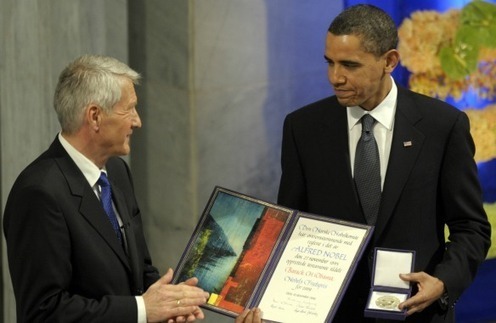 "President Obama's Nobel Peace Prize address conveyed his moral vision of international affairs and laid the groundwork for the foreign policy successes of his first term. His foreign policy ethic has drawn from several moral languages, all of which he articulated clearly in Oslo."
J. Paul Barker's insight:
A thoughtful look at the use of moral language and how it has played out in Obama's tenure in office.
See on religionandpolitics.org